EARN YOUR STRIPES
2018
On Monday, May 21, 2018, at the Sanilac Intermediate School District Board Meeting, nine outstanding individuals were presented with the STRIPES award.
The STRIPES award honors Special Talented Recognized Individuals Providing Education to Special Students.  The Sanilac Intermediate School District, Parent Advisory Committee, gives this award to individuals nominated from the local school districts and the ISD who make a significant difference in the lives of students.
We would like to thank the following people for all the time they put into their vocation and helping students.  Congratulations!  You make our schools special.
Pictured are the individuals who were honored with the STRIPES award and those who nominated them.
The Sanilac Intermediate School District Parent Advisory Committee would like to thank Mr. John Presnell of Presnell Insurance Agency (MEEMIC) of Peck, Michigan for donating gifts.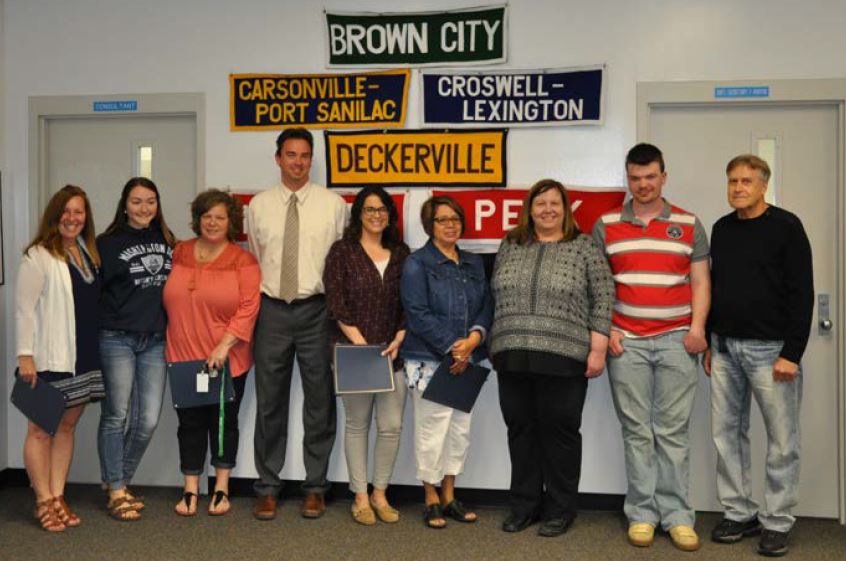 Pictured: Left to right:
Carla McPhilimy – Brown City Schools
Marissa Paschke – (Presenter) Brown City Schools
Susan Morse – Brown City Schools
Ken Nelson - Croswell-Lexington Schools
Kristyn Theobald - Deckerville Schools
Anna Lopez - Carsonville-Port Sanilac Schools
Simone Lawrence - Sanilac Intermediate School District
Henry Wolf - (Presenter) Sanilac Intermediate School District
John Presnell - (Sponsor) Presnell Insurance Agency (MEEMIC)