Program Description
This program introduces students to the exciting and dynamic industry of agriculture and natural resources (ANR). Students can be involved in new technologies through practical applications at the animal studies facility, hydroponic greenhouse and outdoor E.A.R.T.H. Center (Environmental Area for Research, Teaching and Husbandry).
Students may select projects from one or more of the following content areas. Each project selected is designed to enhance the students experience through "learn by doing".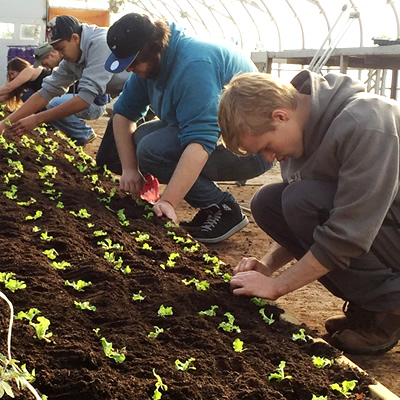 Plant Science
Nutrition, Genetics, Reproduction
Intro to Plants Biology
Horticulture
Integrated Pest Management Crop Production
Hydroponics
Environmental Science
Intro to Ecology
Wildlife Management
Fisheries Management
Water Quality
Recycling & Alternative Energy
Forestry & Maple Syrup Production
Beehive Management
Helpful Experience & Aptitude
Should like to work in an outdoor environment
Ability to problem solve and communicate within a team
Respect for diversity
High school classes in applied Math, Biology and Life Science
Animal Science
Nutrition, Reproduction, Genetics & Health Care
Animal Selection & Evaluation
Animal Products & By-products
Introduction to Veterinary Medicine
Animal Husbandry
Industry Certifications
Pesticide Applicator License
Certified Artificial Insemination Tech
Michigan Certified Crop Advisor
U.S. Certified Crop Advisor
CDL


For College Bound Students
Students learn many beneficial skills that are intended to prepare them for post-secondary education. Macomb Community College, Baker College and Michigan State University offer both a two year technical degree and a large number of four year degrees in agriculture and natural resources. Students selecting a career path in an environmental science field have additional options available to them at Lake Superior State University, Northern Michigan University and University of Michigan.
Upon successful completion of this program students may earn advanced placement and/or college credit towards a two year program at Lansing Community College. If Students earn their FFA State degree through their FFA State degree through their FFA leadership & Biotechnology expeience, they can receive 6 credits towards a degree at MSU.