Program Description
The Construction Trades program is a hands-on learning experience where rough carpentry, electrical, plumbing, and masonry are taught. During the second year, students completely build a custom home. Qualified second-year students can be placed on an internship.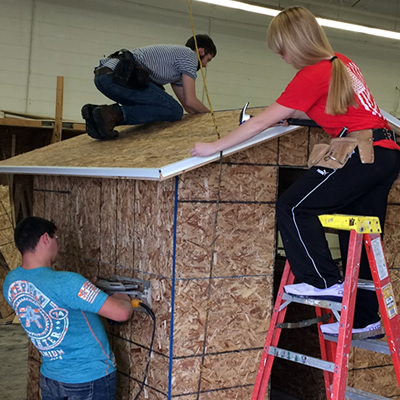 Construction Safety
Building Codes
Construction Estimation
Rough Carpentry
Roofing
Exterior Siding Installation
Insulation Materials
Electrical
Plumbing
Drywall Hanging
Painting and Interior Finish
Interior Door & Trim
Cabinets & Countertops
Stair Construction
Masonry
Computer Aided Drafting
Blueprint Reading
Site Prep
Career Skills
HELPFUL EXPERIENCE & APTITUDE
Add, subtract, multiply and divide
Convert fractions to decimals and decimals to fractions
Read a ruler proficiently to 1/16 of an inch
Work outdoors in adverse weather conditions
Climb ladders and work at heights
Be agile and well-conditioned to work safety
Take accurate notes in class
Use handouts/materials to study for written tests
Industry Certifications
Welding Certification
CDL
For College Bound Students
Upon successful completion of this program, students may be granted advanced placement towards a two or four-year degree at Delta College, and Davenport University.