Program Description
The Engineering & Design classroom is open to 11th and 12th grade students who are interested in working with their hands and minds. This project-based program allows students to carry their ideas from inception to completion using the design process to teach and reinforce problem-solving and higher-level learning.
This classroom uses a blend of classroom work, along with a heavy concentration of hands-on work, providing students with a useful learning experience to prepare them for college or the work force. The 7500 sq. ft. Engineering & Design facility is fully set up for a classroom with access to the Internet and 3D solid Edge CAD (computer aided drafting).
The fabrication shop houses are fully equipped with state-of-the-art machine tools and steel/aluminum welding capabilities. Students will also get a chance to use vehicle test equipment and run on our vehicle proving grounds.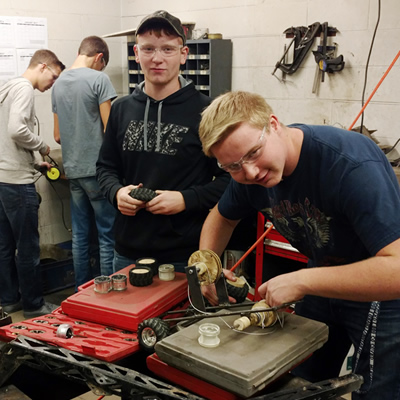 Occupational Safety
Research
Drafting
CAD
Welding
Ergonomics
Vehicle Design
Prototype Design/Fabrication
Baja Team
Performance Testing
Presentation Skills
Employability Skills
HELPFUL EXPERIENCE & APTITUDE
Ability to follow instructions in a lab setting
Willing to problem solve
Interest in working with hands
High School courses in Algebra & Drafting
Self-direction & goal-orientation
Ability to visualize drawings and objects
SCC Custom Bike Team
Students in the Engineering and Design Program at the Sanilac Career Center would like to thank the Collectors Foundation for the $3,500 grant to use towards the purchase and restoration of a 1971 Honda SL 175, which will later be entered into a competition.
The Collectors Foundation is an educational grant-making organization founded by Hagerty Insurance and funded by collector vehicle and classic boat enthusiasts to serve youth development and the long-term interests of the collector vehicle and classic boat communities.
The group of students that will be working on this project will consist of Jake Black, Kyal Busch, Cody Chapin, Aaron Hirsch, Jordan McCready, Allan Sager, Zack Stiles and will be under the instruction of Dave Crompton.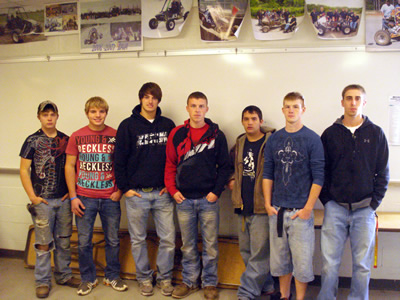 Industry Certifications
FANUC Robotics Certification
Welding Certification
CDL
For College Bound Students
Upon successful completion of this program, students may be granted AP (advanced placement) towards a two or four year degree at Delta College, Ferris State University, Baker College, St. Clair Community College, and Lake Superior State University.