Students Place First at SkillsUSA State Competition

Students in the Careers in Education Program from the Sanilac Career Center competed in the SkillsUSA State Competition that was held in Grand Rapids, April 20-22, 2018. Three students competed in the Community Service Project where they presented their foster child project which included raising money for the children's basic needs and for spreading the awareness for the need of foster famiies in Sanilac County. The team placed 1st and has the opportunity to advance to the SkillsUSA National Competitions in Kentucky in June.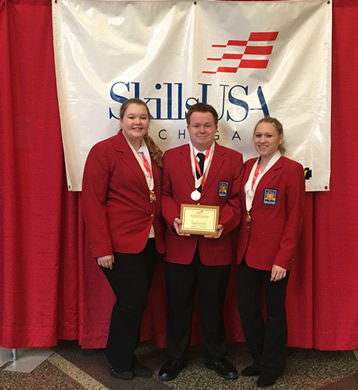 Pictured left to right are: Skylah McDonald, Archer Thorman and Billie Fisler all from Cros-Lex.
Josie Vincent of Peck also attended the State Conference and took 1st place in the Early Childhood Education Contest. She will compete in the National Conference in June. The students are instructed by Monique Soper, Careers in Education Program.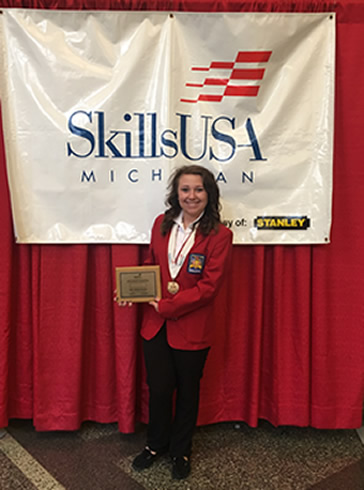 Pictured: Josie Vincent of Peck.
Students Prepare Gifts for New Pet Adopters at the Sanilac Humane Society
Sanilac Intermediate School District students from the Alternative Career Education (ACE), Secondary Transition (STP) and Secondary Emotionally Impaired (SEI) programs teamed up to create unique gifts for new pet adopters at the Sanilac Humane Society. The students placed dog and cat treats made by the STP program, along with dog and cat toys created by the ACE program into up-cycled feed bags made by the SEI program. The programs have been working on lessons and projects geared towards teaching our students the importance of giving back to our community.
Students were able to tour the facility and interact with the pets that were available for adoption thanks to volunteers and staff at the Humane Society.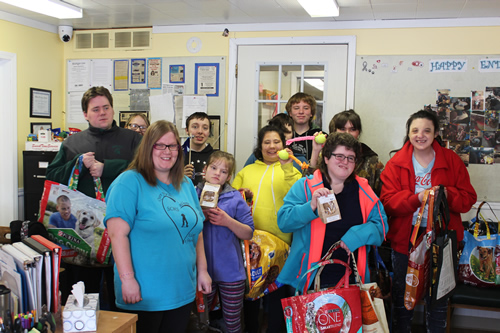 Students pictured: Drew Scheid, Bronwyn Orlando, David Aboussouan, Emma McKenney, Anjelica Welch, Megan Hodgins, Domminique Beatty, Liam Miller, Zack Regnier Cassidy Smith and Amber Hahn. Also pictured is Sanilac Humane Society Volunteer Alisha Hildreth.
Students Getting Ready for Spring
Students in the Intermediate Transition Program are hoping that spring weather will finally stay!  In honor of spring, students made hand butterflies that are now displayed in the classroom.  Students had fun using their hands to create art and hope the butterflies will help the nice weather to stick around!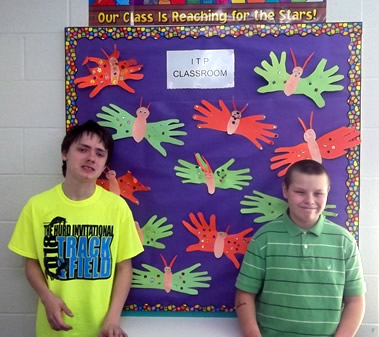 Community Enrichment
Spring Brochure
Check our brochure to see when our 
Spring classes begin.
Call us for more information at 
(810) 648-4700 X 4266 
and ask for Mary Fraley.
A.C.E. Students Visit Secretary of State Office

Special education students in the Alternative Career Education (A.C.E.) program at Sanilac Intermediate School District have recently visited the Secretary of State office to apply for a state ID card and/or register to vote.  Every spring, A.C.E. students are encouraged to get their state IDs and register to vote as part of their transition curriculum and community involvement.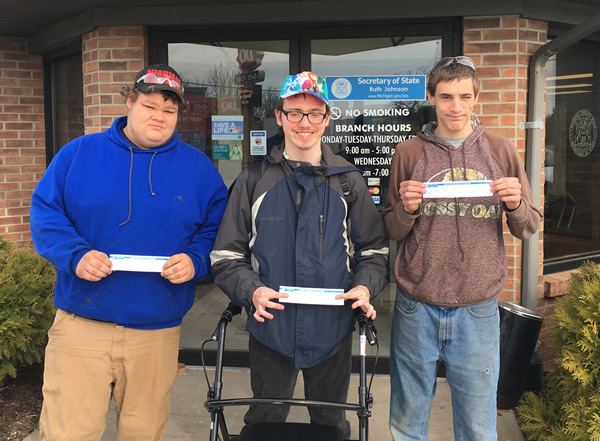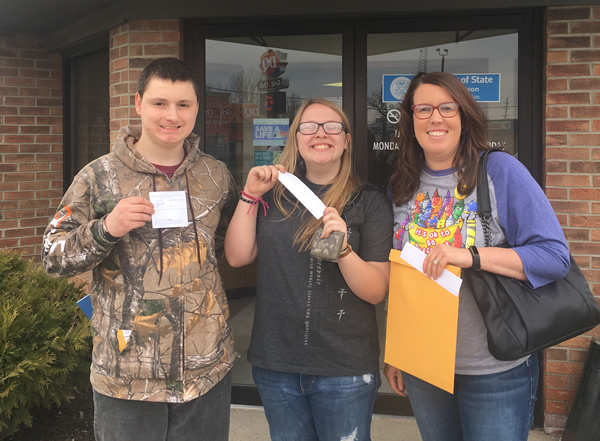 Pictured from left to right:  Connor James (Marlette), Gabriel Jurzysta (Croswell-Lexington), and Nicholas Gutleber (Deckerville).
Second picture, from left to right: David Collins (Croswell-Lexington), Bronwyn Orlando (Croswell-Lexington), and Alysha Peruski, A.C.E. Instructor.
Maple Valley Student of the Week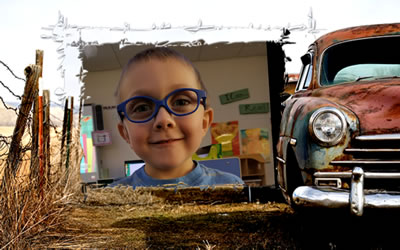 Chase Smith
Upcoming Events